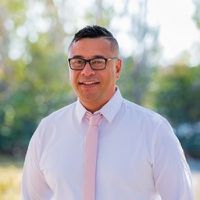 About
Rick is the Selling Principal at Blink Realty. He is Unbelievably Passionate about Real Estate and loves to help people through their journey. His Knowledge and Skillset coupled along with his social skills for Real Estate will make Finding or Selling your new home a Breeze.
Contact
Properties listed by Rick Kingi
"Pleasure doing business with you!"
Hallo Rick

We would like to thank you and your great Team at Blink Realty for all the Help on the Sale of our Property.
You were one of the best Real Estates we ever did Business with. All the Time your Team kept us updated
on the Proceedings of the Advertising and then the Sale. We hope to do Business with you again.

Regards

Joseph and Alexandra Graf
- Josef & Alexandra
Park Ridge QLD
---
"Marsden QLD"
The King!!
Right from the start , possibly ten minutes into our first meeting I felt we had made the right decision at choosing to list our property with Mr Kingi. His enthusiasm and commitment is genuine and he kept in constant contact with us regarding our listings progress and possible options we had to increase its exposure for the least amount of money.. None of these options were necessary in the end because unlike the NZ cricket team , Ricks strategy was spot on and we sold our house for the figure we wanted in the timeframe we had hoped for.....so as a happy and proud Aussie I say " Cheers Bro " For a job well done...
Gary Krause AKA Gazza
- Gary Krause AKA Gazza
---
"Waterford West QLD"
Rick was very professional and kept us informed of each stage of the sale I would list my property with rick again.
Paul Perrin
- Paul Perrin
---
"Crestmead QLD"
Hard working and great negotiator!!
Rick impressed me immensely. Hard working and great negotiating skills. I was glad to have Rick on my side. Got the result I wanted.. Happy to use Rick again if I'm selling. Worth every cent of his commission. Thank you for your service and professionalism. Regards.
Michael Norris
- Michael Norris
---
"Crestmead QLD"
Rick was a great agent to deal with. I would highly recommend him to anyone
Katherine A.
- Katherine A.
---
"Crestmead QLD"
Rick is very knowledgeable and well versed with the Suburb I was buying in. The property was rented out to tenants even before the bank settlement day so no days lost for rent!
Giridhar
- Giridhar
---
"Loganlea QLD"
Highly recommend!!
We found Ricki a pleasure to deal with, honest and reliable and would highly recommend him to anyone selecting an agent.
Christine E.
- Christine E.
---
"Crestmead QLD"
Thanks Rick, your commitment and dedication to selling our house was second to none, we will definitely recommend you in the future.
Lyndel S.
- Lyndel S.
---
"Crestmead QLD"
AMAZING REAL ESTATE AGENT!!
We found Rick at all times, working in our best interest selling our property. Rick went over and above helping us have the property maintained and in an excellent state for selling. Without Rick working for us, our property would be struggling to sell today. Thanks again Rick for all your hard work -
Katrina R.
- Katrina R.
---
"Crestmead QLD"
Rick was a pleasure to deal with great and friendly service would recommend to anyone!
Thanks Rick for my quick sale! was a pleasure meeting you.
Charmaine
- Charmaine
---
"Waterford West QLD "
Knows the local area really well!!
Rick kept us informed throughout the sales process, very easy to deal with. Highly Recommended
Max Daqi
- Max Daqi
---
"Waterford West QLD"
Great agent professional well spoken very helpful as I was a first home buyer helped answer all questions and would highly recommend Rick Kingi top bloke.
Anish
- Anish
---
"Crestmead QLD"
Rick told me he had interested buyers in a price range that I wanted.. he was right!
With the Brisbane property market moving up and down over the years, Rick contacted me to see if I was interested in selling, I was and had been interested for sometime, but was waiting for the right time. Rick was able to help me see that current market conditions were ripe to sell for a min price I was willing to settle on. I got that price, and a buyer within a week of the property being advertised. Very happy with the outcome. Thanks Rick for driving this sale to its happy ending!
Jacqueline
- Jacqueline
---
"Crestmead QLD"
I had my property on the market with another agent for 3 months but did not have any luck selling it. After the house had been in the market, I was flooded by real estate agents pitching sell tactics like "we have investors" but they would never bring the so-called investors.
With Rick:
He came over saying he had investors, I thought, here we go again.... But he asked for pictures of the house, few weeks went by and boom, he brings me an offer! Very polite and best of all he delivered what he promised. Very happy with his work!
Thanks Rick for selling my house.
Filepe
- Filepe
---
"Waterford West QLD"
With Rick's network of prospective buyers I was able to sell my property very quickly at the value I was after. The sale was that quick I didn't even require advertisement.
JayJay
- JayJay
---
"Crestmead QLD"
Rick sold a property of mine very quickly & with a minimum of fuss. He delivered exactly what he said he would (which can be unusual in sales in my experience). The price was right & the results were spectacular. Happy to recommend Rick as a top-notch Real Estate agent!
Julien Virag
- Julien Virag
---
"Waterford West QLD"
Rick went beyond what was expected in selling the house, he considered not only the financial but emotional investment involved and remained sensitive to our needs throughout the entire process. He was upfront regards market value and explained strategy throughout . At no time were either of us out of the loop or not informed - we felt we were part of a team. We both felt that he cared and we did from the beginning its why we went with Rick over and above some of the bigger real-estates and I am so glad we did.
Marcus & Rennae
- Marcus & Rennae
---
"Waterford West QLD"
Rick was outstanding in his negotiations with our buyers. He continued to find the best price for us and made the whole process of selling our much loved family home an easy transition.
Amanda & Harley
- Amanda & Harley
---
"Crestmead QLD"
Crestmead QLD
Rick sold our property in a timely manner close to the sale price we had in mind.He also helped get the contract over the line. Well done Rick!
Gordon Tonkins
- Gordon Tonkins
---
"Great service"
I have both purchased and sold a property through Rick. I have also had Rick look after the rental of the property. In all dealings with Rick I have found him to be very professional and very honest. I would recommend Rick to anyone looking to buy or sell.
- Mark
---
"Great Agent"
As a buyer we found Rick to be very professional agent to work with. He made himself available on our request and followed up when required in a timely manner.
- Nader
---
"Rick is a top guy and an exceptional agent. Service focused and outcome commited"
If your selling or buying look no further than Rick Kingi and his team at blink realty crestmead
Outstanding agents with a family friendly vibe service driven with results to match!
As a vendor, my experience was top notch from start to finish! Communication was outstanding! Rick is Confident with his knowledge and commited in getting the best possible price for his vendors. His database of clients is huge and I love that he remains humble with his success
I am thrilled with the result from the service and solid commitment I received when I handed our property to Rick to sell. I cannot speak more highly of Rick and his team and for making our experience both profitable and stress free!
Thank again Rick!
Cheers mate!
- Lynette and Mark Hughes
---
"Awesome agent"
I have just bought a house through Rick Kingi at Blink realty and was so impressed with everything. He was really helpful as I'm a first home owner so it made me relax a bit... rick made it so easy through the whole process and I would highly recommend him to everyone I know. An awesome agent in every way.
- Jason
---
"Twice a winner"
I have had Rick sell 2 houses for me now. The first house was under contract within a week. The second one took a bit longer but Rick never gave up. I found Rick to be honest and a man of high integrity. His market knowledge is fantastic. I would recommend Rick and his company Blink Realty to anyone looking to buy or sell.
- Ben Parga
---
"A breath of fresh air..."
Rick is responsive, knowledgeable and really helpful. I would recommend him without reservation. Great service which is a breath of fresh air in an industry with more than its fair share of bad eggs.
- Neil Galbraith
---
"Mister Amazing"
Rick sold one of our family members houses within 24 hours. We asked him to help with our house and he never failed to impress. Rick was honest and caring and always kept it real. More like a friend than a salesman, Rick put in the hard yards and did the groundwork to get buyers in to view our house. Hes an absolutely great guy and I highly recommend Rick. He is Mister Amazing. Fantastic to deal with.
- Sara Parga
---
"Best Agent"
Rick has sold two properties for me in a short period. He is one of the most reliable agents I have ever dealt with. He is responsive, informative and dedicated to the task at hand.
I certainly would recommend Rick to any intending Buyer or Seller, confident in the fact that he provides the highest level of service. Great work Rick !!
- Ken Shum
---
"Happy Agent"
Flew up from Sydney and met Rick, and felt welcomed immediately. Answered any questions I had and introduced me to the rest of team. Pleasure to deal with. Thanks.
- John Warda
---
"Problem solver"
I have dealt with Rick for a number of years and he is always able to find a solution to a problem. He works with all parties to find common ground and a great result for everyone concerned. An excellent communicator with detailed local knowledge I would highly recommend him.
- Stewart
---
"Great Agent"
Rick has demonstrated to me as a seller many fantastic qualities. He is extremely pro active, responsive and at all time worked to achieve my goals. He and his team have sold this property in record time and achieved the price I wanted.
I highly recommend Rick as an agent who will work to achieve what a seller wants and at all times communicate back progress. He has become more of a friend than an agent who sold my property.
- Ken Shum
---
"Highly recommended agent"
Very pleased with Rickis service and his staff. The original sale fell through due to buyer lack of finance, but Ricki managed to secure a new buyer and contract within a few days. Ricki was never pushy. Always remained in-touch with information. Helped organise mortgage at the last minute.
- Uani Andrews
---